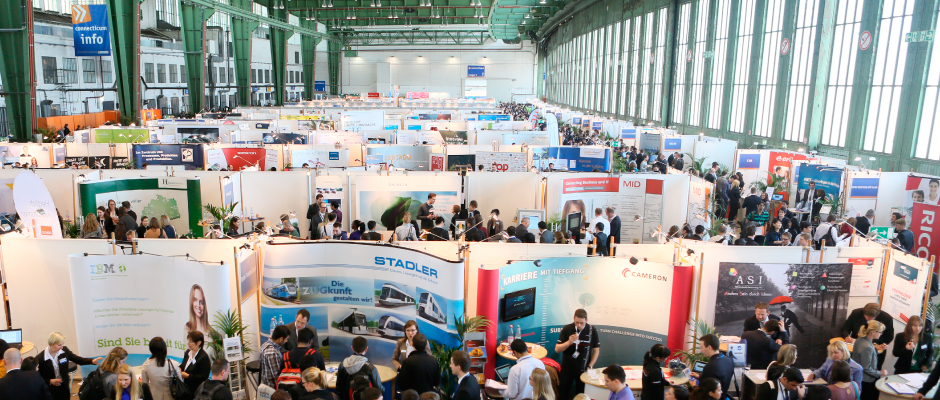 connecticum 2014,
May 6 to 9
Airport Berlin-Tempelhof, free entrance!
Job fair - connecticum 2014
Germany's major career and recruitment fair for students, graduates & young professionals
Job fair for students, graduates and young professionals
From all over Germany, Europe and Asia, students, graduates and young professionals come to connecticum in Berlin to get informed about latest and future career opportunities with the most interesting and exciting employers. connecticum is one of the major job fairs for students and graduates worldwide and takes place in Berlin once a year. The major subjects at the job fair are business, engineering and information technology. The entrance is free!
Job fair with about 400 renowned employers
Every year around 400 renowned and well-respected employers of all sizes and industries introduce themselves to our national and international young academics. Hardly any other job fair offers such a large number and variety of attractive employers - starting from the big players over to the hidden champions to the new, young and successful start-ups.
Job fair with over 20.000 registered students and graduates
All over Germany, connecticum is one of the most popular and most important career forum; especially for engineers, computer scientists and economists. The majority of visitors participate due to recommendations from friends, fellow students or professors.
The connecticum job fair takes place once a year. Next fair date:
connecticum 2014
Germany's major career and recruitment fair for students, graduates & young professionals
4 fair days, 400 renowned employers. Free admission!
Airport Berlin-Tempelhof, entrance at hangar 5
May 6 to 9, 2014 (first time for four days)
More fair dates:
connecticum 2015: May 05 to 08, 2015
connecticum 2016: April 26 to 29, 2016
connecticum 2017: April 25 to 28, 2017